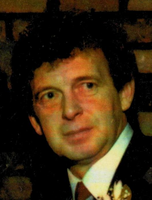 Joseph Edward Stankard
Joseph E. Stankard III - Decorated Fire Official
79 of Whiting, NJ, formerly of North Bergen, passed away on Tuesday, January 9, 2018.
Joseph was predeceased by his first wife Peggy, his daughter Sharon, and his grandson Jesse. Joseph is survived by his brothers Harold, Kenneth, Thomas and William Stankard, his wife Nuala O'Connor Stankard, his sons Joseph Stankard IV, his wife Bonnie, Brian Stankard, his wife Jamie, Kevin Helmick, his wife Joann, and Brian Helmick, his wife Carol. Also surviving are 11 grandchildren and 5 great-grandchildren.
Joseph was born and raised in North Bergen and was a proud Army veteran serving three years, two of which were in Germany. He was a decorated fireman serving for 27 years with the North Bergen Fire Department and later promoted to a fire official. He was twice awarded life-saving awards in the 1970s. He later became the first executive director of the North Bergen Municipal Utilities Authority retiring in 1989 from both positions. He loved sports and was an avid Mets and Jets fan and had tryouts with the Braves and Cubs in his youth. Joseph was a friend of Bill W. for 32 years.
Funeral from McCorry Brothers, 780 Anderson Ave., Cliffside Park on Saturday January 13, 2018 at 11:00 AM. Funeral Mass to be celebrated at Our Lady Of Fatima Church, North Bergen, at 12:00 PM. Interment to follow at Crest Haven Memorial Park, Clifton, NJ. Visiting hours on Friday, from 2-8 PM. .For information and directions, please visit www.mccorrybrothers.com.