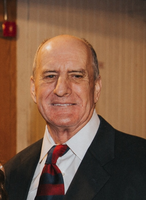 David G. Corcoran
David G. Corcoran, age 59, of Cliffside Park passed on Friday, January 12, 2018.
Born in New York, NY. he was the son of the late Robert and June (Collins) Corcoran.
David is survived by his daughters Dana Porschen, and Ashley Corcoran, and his sons David Jr., Dale, and Tyler Corcoran. Also surviving are his brothers Robert, Kenneth, his wife Karen, Scott Corcoran, and his sister Dawn Corcoran. David was blessed with seven grandchildren, Corra, Antonio, David, Dillinger, Amelia, Tyler Jr., Caleb, and a great grandchild on the way.
Calling hours will be Friday January 19, 2018 from 6 - 9 pm at McCorry Brothers Funeral Home, 780 Anderson Avenue, Cliffside Park, NJ.