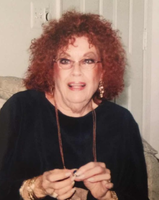 Judy Ann Cowan
Judy Ann Cowan – 91, of Englewood, NJ passed away on January 22, 2018.
It is with great sadness that we announce the end of an era. Judy Ann Cowan (nee O'Neil) passed away peacefully after a life well lived, for almost a century. Born during prohibition in Springfield Massachusetts, Judy grew up in Larchmont, NY. Her childhood years were during the great depression through World War II.
Judy was a pioneer in her day, attending and graduating from Elmira College with a Bachelor's Degree in 1949, at a time when less then 100,000 women graduated with a BA in America. Judy moved to NYC where she started a career in advertising, and she eventually met and married her husband, moved to Englewood NJ and settled to raise her family in Tenafly.
Judy was a single parent for many years, tirelessly working in the retail fashion industry, days, evenings, and weekends at B. Altman & Co., and Hartly Fashions. Her sense of style and beauty was well known in Bergen County, and she had a loyal following of customers. As Judy's children Andrew and Scott grew up, married and started their own families, Judy spent her days off entertaining her grandchildren at zoos, lakes, museums and theaters. Judy was an avid Broadway enthusiast, and never missed a new show or revival, and did her best to instill that same love for the theater in her family.
Judy will be greatly missed, and forever remembered. Memories touring New England and Paris, vacationing on LBI, playing the piano, and sharing a drink and a song will never be forgotten. May the wind be always at your back, Rest in peace mom, you deserve it. Judy is survived by her two sons, daughter in-laws, Yvonne and Suzanne, and her 7 beloved grandchildren; Christopher, Michael, Nicole, Laura, Ariel, Jazmine and Mackenzie.
Memorial service to be announced.