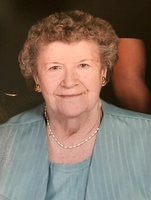 Eleanor Gobel
Eleanor Gobel, 93 of Cliffside Park, NJ, passed peacefully on Tuesday, January 30, 2018. Eleanor, the daughter of Louise and Max Brychcy, was raised in Weehawken and then resided in Cliffside Park for over 60 years.
Eleanor was predeceased by her husband Frank. She is survived by her son Charles, his companion Cynthia, daughter Irene, and son-in-law John. She was the beloved grandmother of Jeffrey, his wife Allison, and Frank Gobel and loving great grandmother to Abigail, Mason and Landon Neaman.
Eleanor worked at Prentice-Hall for over 25 years in the International Department as a foreign correspondent who sent books to Germany and the Near East.
Funeral from McCorry Brothers Funeral Home, 780 Anderson Avenue, Cliffside Park, on February 3, 2018 for family members only. Visiting hours on Friday February 2, 2018 from 3-8 pm. Donations in lieu of flowers can be made to Trinity Evangelical Lutheran Church, 238 Columbia Ave, Cliffside Park, NJ 07010. For information please visit www.mccorrybrothers.com.