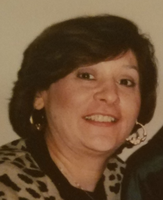 Jeanette C. LaGreca
Jeanette C. LaGreca, 55, passed away peacefully on Thursday February 1, 2018. She was born to her late loving parents Anthony "Tony" LaGreca, Sr., and Helen LaGreca (nee Cipolletta) on May 30, 1962.
She was raised in Fort Lee NJ where she graduated from Fort Lee High School in 1981 before moving to Cliffside Park, NJ. Jeanette was a sales person for various companies before her employment with the Cliffside Park Board of Education where she was a Teacher's Aid at School #4.
Cherished sister of Anthony LaGreca, step-sister Gina LaGreca, step-brother Paul LaGreca, beloved niece to Carmine Cipolletta and Marie Paci as well as other family members she leaves behind. She will be dearly missed by all who knew her.
Family and friends to gather at Madonna Church (Church in the Cemetery) 2070 Hoefleys Lane Fort Lee, NJ on Saturday February 10, 2018 at 10:30am for a memorial visitation. Mass to follow at 11:00AM. Burial to follow in Madonna Cemetery. In lieu of flowers donations in Jeanette's memory to: American Cancer Society @ www.cancer.org/ would be appreciated.