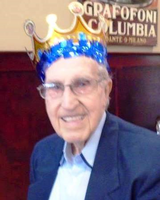 Jerry Tiseo
Jerry Tiseo, 92, of Park Ridge, NJ, formerly of Cliffside Park, NJ passed away on Thursday, February 22, 2018.
Uncle Jerry, as he was affectionately known, was at times extremely witty, had a great sense of humor and combined with a hilarious flair for telling family stories, real stories, that his nieces and nephews never knew about. He had a great deal of love for his family who were very important to him.

He was self-taught and during the depression had to quit school in the 8th grade to get a job and help support the family. He was an avid reader who loved to read about US history and Europe. He always had a dictionary by his side so when he did not understand a word, he would look it up. He could talk about any topic, and his family admired him for this.

His niece Dolores says, "he and I were extremely close. My mother, father, and I lived with him and my grandmother until I was 4 years old and then moved only a block away. We remained close. He introduced to me to NYC Plays, Radio City Music Hall Shows, and the local Opera Company he was affiliated with in Hudson County. I could go on and on but I think I can sum it up by saying...in the words of Frank Sinatra...Jerry Tiseo 'DID IT HIS WAY.' A way that will never be forgotten."
Visiting hours at McCorry Brothers, 780 Anderson Ave, Cliffside Park on Saturday, February 24, 2018 from 11:00 AM - 12:30 PM. Concluding with a prayer service at the funeral home. Cremation will be private.