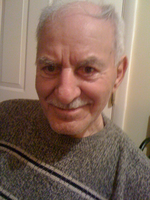 Raymond Michael Massaro
Raymond Michael Massaro, Sr. 89 of Fairview, NJ passed away on April 8, 2018.
Born at home in Fairview in 1928, Raymond was the second youngest of nine children, born of Italian immigrants John and Amelia (nee Ricci). After graduating from Cliffside Park High School in 1946, he proudly served in the US Marine Corps and the New Jersey State Police. He and his wife Patricia were married in 1951, and raised their family in Montville, NJ. Raymond later became an Ironworker, and over the years pursued several business interests including a restaurant, and sales - swimming pools, foods and imported gold jewelry. He was active in the Fairview Italian-American Social Club, and was an avid sports fan, with NY Yankees and Jets among his favorites. Affectionately known as 'Pops' to his grandkids, he was an enthusiastic supporter of their many sports activities. For fun, he loved the beach, boating and fishing, playing card games with family and friends, and enjoyed Italian food, country music and comedy. He held a great love for his family.
Raymond is predeceased by his loving wife Patricia Marie (nee Rago), his son Raymond Jr, his brothers Alfred and John, his sisters Sylvia, Irene, Josephine, Catherine, Lisa, and great-granddaughter Haleigh. He is survived by his brother Pasquale (Pat) and his wife Renee; his children: Raymond Jr's wife Kathleen, Ronald and his wife Judith, Cheryl, Randall and Mark. Also surviving are his grandchildren: John and his wife Christine, Michael, Christine, Joseph, Samuel, Kathryn, Anthony, Michelle, Samantha, David, Anna, Laura, Evan and Taliyah; and his great-grandchildren: Jenna, Lindsey, James, Claire, Anthony, Dominick, Adrianna and Johnny.
Family and friends may visit Friday, April 13th from 2 – 4 pm and 7 – 9 pm at McCorry Brothers Funeral Home in Cliffside Park. The funeral Mass will be held on Saturday, April 14th at 9:30 am at Our Lady Of Grace in Fairview. Burial will follow at Fairview Cemetery in Fairview. In lieu of flowers, the family requests donations be sent to the American Cancer Society. McCorry Brothers Funeral Home is located at 780 Anderson Ave, Cliffside Park, NJ 07010 (201) 945-1220