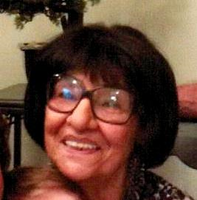 Nonnie Villani
On the morning of April 11, 2018, Anne "Nonnie" Villani passed away at her home in Cliffside Park, NJ. Nonnie was 87 years-old at the time of her passing.
Nonnie's journey began on September 28, 1930. Nonnie was one of 12 children born to Frank and Philomena Alfano. She was born at her family's home on Cliff Street in Cliffside Park, NJ where she lived much of her life. She had a deep love for the town and for the people that lived in it. She never lived in any other town. She served the town as a member of the Cliffside Park Nutrition Center for over 27 years where she lovingly served food to the senior citizen community. She also worked for the Cliffside Park little league where she ran the candy stand for many years.
Nonnie had a true passion and love for life. She was rarely seen with anything but a smile on her face, and always gave a warm embrace. She can be summed up by one word "family." Her family was everything to her. She had a great love for her husband, her children, her grandchildren, and her very large extended family. She was the true matriarch of the family. She was lovingly married to her husband Joe for 67 years. Joe and Nonnie had a marriage that exemplified love. They did everything together, and you could see the passion and bond that they shared, even when she was yelling at him. Together they raised three children, 7 grandchildren, and lovingly served as great-grandparents to 2 beautiful children.
One of the greatest joys in her life was being able to cook for and feed people. You never saw her not cooking and was often yelling at people to sit down at the dining room table just so she could put a plate of food down in front of them. She was a kind, considerate, witty, and mindful person. She lived everyday with love in her heart. She loved to go to Atlantic City to play the penny slot machines. She went away once a year for many years with her girlfriends as they nicknamed themselves "The Cliffside Park Runaways."
She is predeceased by her parents: Frank and Philomena, and her siblings: Mary, Josephine, Madeline, Anthony, Ida, Christina, and Dolores. She is survived by her husband Joseph; her siblings: Louis, Virginia, Genevieve, and Edith; her children: JoAnne and Victor Avon, James and Resa Villani, and Joseph Villani; her grandchildren: Victor and Lindsey Avon, Jason Avon, Jessica and Nicholas Magistro, James and Wendy Villani, Jennifer Villani, Janine Villani, and Justin Villani; and her great-grandchildren: Jason "Junior" Avon Jr and Gianna Magistro.
Visitation will be held at McCorry Brothers, 780 Anderson Ave., Cliffside Park, NJ, on Friday April 13, 2018 from 4-8 PM. Funeral from McCorry Brothers on Saturday April 14, 2018 at 10 AM and thence to Our Lady of Grace Church, 395 Delano Place, Fairview, NJ, for Mass at 11AM. Private cremation to follow.