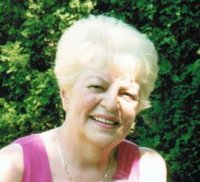 Phyllis J Spadavecchia
Phyllis (Tana) Spadavecchia, born October 6, 1931, and passed away on July 9th, 2021 after a brief illness. She was 89 years old. Phyllis entered the workforce before being widowed at a young age. She worked in management for Faberge as an accounts payable specialist while raising her sons. She played the role of mother and father in a time when that was not common. Despite these struggles, she always provided a loving and warm home for her sons. Phyllis was founding President of the Ridgefield Chapter of Deborah Hospital and along with close friends, some heavenly, raised millions of dollars for heart and lung sponsorship to assist many recipients before the time when not every hospital performed such heart and lung operations as they do today. Her sons and their friends participated in sponsored charity sporting events to help raise money for Deborah Hospital in addition. Phyllis never remarried after the death of her husband Philip, who predeceased her by 43 years.
She is survived by her sons Robert and Michael and her granddaughters Danielle and Jennifer and her husband Robert. Phyllis was a lover of pets, especially Yorkies, and leaves behind her beloved Yorkie Grandson JERSEY. Phyllis was loved by many and will be sadly missed. We will carry her memory in our hearts forever, I hope you will as well. Thank you all.
Visitation will be Sunday, July 18, 2021, from 3-5 PM at McCorry Brothers, Cliffside Park NJ. Please gather Monday, July 19, 2021, at Fairview Mausoleum, 501 Bergenwood Road, Fairview NJ at 11 AM for entombment.