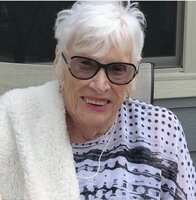 Dolores Bononno
Dolores Bononno (nee Flynn), 91 years, of Waxhaw, NC, formerly of River Edge and Fairview, passed away peacefully on Friday August 27, 2021. She was predeceased by her adoring husband Carmine "Kempy" in 2011. Loving mother to Donna Telesca, Ronald, his wife Donna, Thomas, his wife Corby, James, and his wife Christine. Cherished grandmother to Ron, his wife Lindsay, Jennifer, Jamie, her husband Jesse, Joseph, Regan, Luke and Katie and great grandmother to Riley and Sawyer. Dolores is also predeceased by her son-in-law Salvatore Telesca.
Dolores' proudest accomplishments were being a Wife, Mom, Nanny, and Gigi. Nothing made her happier than being with her family. She was an exceptional cook and baker and the center of every family celebration, which also included many of "her kids" friends, also family, many affectionately calling her "Momma B". When she was not with her family, she would love her adventures and lunches with her best friend Jeanne.
To properly describe our mom is difficult, so we offer this portion of a tribute to her just written by her eldest grandson Ron regarding his childhood experiences with her, similarly shared by all of us at one time or another:
…We would go on the longest walks. You showed me a little solar powered dome in a business window and told me that it spins because the sun was touching it. I want you to know that this is how I shared the news with Riley and Sawyer that you left us. I had bought one of these little domes two days prior. They loved our story. I told them that they can think of you every time the sun touches this. When we see the pieces of metal spinning, we will think of you and the sun and how bright you made our lives…
She surely was the sun in all of our lives and will always be. Our sadness will be replaced with wonderful memories which will make us smile and laugh forever.
Visitation will be held on Monday, Sep 6 from 4:00 to 8:00 PM at McCorry Brothers Funeral Home, 780 Anderson Avenue, Cliffside Park. Please gather for Mass on Tuesday, Sep 7 at 10:00 AM at Our Lady Of Grace R.C. Church, 395 DeLano Place, Fairview, burial to follow at 11:30 AM at St. Joseph's Cemetery/Mausoleum 179 Hackensack Avenue, Hackensack, NJ.
**Masks will be required to enter funeral home**





.