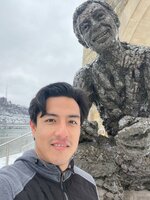 Fernando Edwin Hidalgo-Naranjo
Fernando Hidalgo-Naranjo, 30, of Cliffside Park, passed away on Tuesday October 5, 2021.
He was born in Quito, Ecuador and is the loving son of Edwin and Carmen Hidalgo. Brother and best friend of Gabriel Hidalgo. Grandson of Enriqueta Mancero and Beatriz Defaz. Fernando is also loved by his adoring aunts, Cecilia and Eugenia Naranjo and Miriam, Catalina and Cristina Hidalgo.
Visitation on Friday, October 8, 2021 from 5-8 PM at McCorry Brothers Funeral Home, 780 Anderson Ave., Cliffside Park.