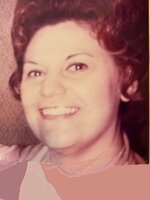 Fanny Dunn
Fanny Dunn, 89, of Cliffside Park, passed away on Saturday October 9, 2021. Fanny was predeceased by her adoring husband, Edward Dunn (2014), her son, Charlie Uhde (1959) and her daughter Sophie Uhde (2020). She was a long-time employee of Millers Bakery in Cliffside Park NJ. Fanny was truly the happiest when she was with her husband and children.
Visitation will be Wednesday, October 13, 2021, from 9:30-11:30 AM at McCorry Brothers Funeral Home, 780 Anderson Ave., Cliffside Park. Funeral Mass to be celebrated at 12:00 PM, Wednesday at Our Lady of Grace Church, 395 DeLano Place, Fairview, NJ. Burial to follow at Fairview Cemetery, 500 Fairview Ave., Fairview NJ.
In lieu of flowers, donations to the American Cancer Society would be greatly appreciated.






.