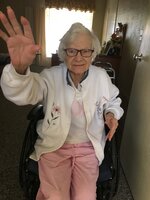 Loretta Theresa Winkle
Loretta T. Winkle was born January 24, 1923, in New York City, and died November 16, 2021, in St. Petersburg, FL. Loretta was laid to rest at Madonna Cemetery in Ft Lee, NJ.
Beloved Mom and Nana, Loretta is survived by her son Paul Winkle and his wife Lisa Winkle, grandson Alex Winkle, and step-grandchildren Shannon Johnson & Brendan Bailey. Loretta was a retired nurse, receiving her LPN in 1943 and becoming a Registered Nurse in 1974.
Nana was a loving, caring, selfless person who always put others first. She was a devoted Catholic who "walked the walk." She continues to inspire and light the way for those lives she touched.
Nana loved to garden, especially when it came to growing plants and tending to her vegetable garden. She was blessed with the proverbial "green thumb." Nana also loved fishing where she grew up on Long Island, and later after moving to Florida in 1999 to be with her family. She also loved arts & crafts and the New York Yankees. Her favorite player was Derek Jeter.
Nana will be missed and our fond memories of her will live on. Our favorite Nana quote is "I have two cups of coffee in the morning …one for each eye!"