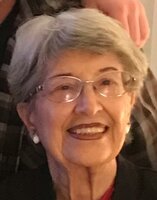 Lois Sekula
Lois Sekula (née Van Cleef) 89 of Fort Lee passed away July 4, 2022. She was born in Englewood Hospital and she lived in Cliffside Park and Fort Lee all her life. Lois was a life-long parishioner of Epiphany Church and participated in several church groups such as The Legion of Mary, Epiphany Seniors, Confraternity of Christian Women and was active in the Bereavement Ministry. In Fort Lee, she was a member of The Main Street Seniors, AARP of Fort Lee and did some volunteer work for their VFW as requested. Lois worked at Time Warner Communications as a Private Secretary. Through all these activities, she cherished the friends she made and enjoyed many outings with them and her twin sister who joined them on many occasions.
She is survived by her adoring twin sister, Norma Warren and numerous loving nieces and nephews.
Visitation will be held on Monday, July 11 from 4:00 to 8:00 PM at McCorry Brothers Funeral Home 780 Anderson Avenue, Cliffside Park, NJ. Funeral from McCorry Brothers Funeral Home, Tuesday, July 12 at 11:15 AM. Mass will be held on Tuesday, July 12 at 12:00 PM at Church of the Epiphany, 247 Knox Avenue, Cliffside Park, NJ with interment to follow at 1:30 PM at George Washington Memorial Park, 234 Paramus Road, Paramus, NJ.
In lieu of flowers, donations in memory of Lois may be made to: The Heritage Fund, c/o Epiphany Church, 247 Knox Ave., Cliffside Park, NJ 07010.