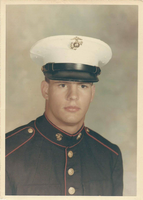 Richard Alan Furman
Richard Alan Furman, age 67, of Cliffside Park, NJ passed peacefully on Saturday, January 20, 2018. Richard was the son of the late Chester and the late Ruth (Denninger) Furman, and was predeceased by his brothers Chip and Joseph Furman.
Richard is survived by his sister Janet Laemmle, and his brother Michael Furman Sr. and his longtime friend Dawn Altyn. He was the cherished uncle of 13 nieces and nephews, and 22 great nieces and nephews.
Richard was a proud Viet Nam veteran who achieved the rank of Lance Corporal serving in the United States Marines. He loved Elvis, his cowboy boots, and fishing off the shores with his closest friends.
Family and friends are invited to say their final farewell from 6-8 pm on Thursday January 25, 2018. Military honors will be presented at 7:45 pm
Donations in lieu of flowers can be made to the Marine Corps Heritage Foundation at www.marineheritage.org