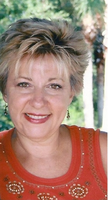 Wanda Kennedy
Wanda Kennedy 65 of Cliffside Park, NJ, passed away on Thursday, November 15, 2018.
Wanda is survived by her beloved husband Kevin, her dear mother Coraly, her adoring son Brian and his girlfriend Abigail Wood, her loving brother Bob Pia, his wife Joan and their children Bobby and Amy, and her dear cousin Noreen Peterson. Wanda was predeceased by father Leo Pia.
Wanda was an active volunteer for the Boy Scouts Troop #3 in Ridgefield Park, and a teacher at Anna L. Klein Elementary School in Guttenberg for 35 years. Funeral from McCorry Brothers, 780 Anderson Ave, Cliffside Park on Tuesday November 20, 2018 at 9:00 AM.
Funeral Mass to be celebrated at Church of the Epiphany 247 Knox Ave, Cliffside Park, at 10:00 AM. Interment to follow at Madonna Mausoleum, Fort Lee, NJ. Visiting hours on Monday November 19, from 2-4 & 7-9.
Please send donations in Wanda Kennedy's memory to support Memorial Sloan Kettering Cancer Center. Checks, made payable to Memorial Sloan Kettering Cancer Center, should be mailed to: Memorial Sloan Kettering Cancer Center, Attn: Emily Carter, 885 Second Avenue, 7th Floor, New York, NY 10017. Please indicate on the check that the gift is in memory of Wanda Kennedy. If you prefer to make your gift online, please visit http://mskcc.convio.net/goto/wandakennedy.