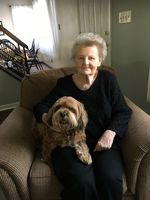 Leona M. "Lee" Dickman
Lee Dickman (nee Yost), of Maywood, NJ, formerly of Cliffside Park, NJ, passed away on Tuesday, April 9, 2019 with her loving daughters, Nancy Dickman of FL and Carol Jupiter of CA, by her side.
She was predeceased by her cherished life companion Lou Dossena. Lee was an avid Bingo player and will be dearly missed by all who knew her especially her lifelong friend Marilyn O'Byrnes. Arrangements handled privately by McCorry Brothers Cliffside Park, NJ.
A celebration of her life will be held at Café Tivoli, 533 Shaler Blvd., Ridgefield, NJ, on Saturday, April 13, 2019 from 6-10PM.