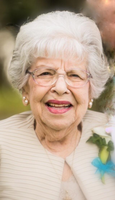 Genevieve Agnes Salmeri
Genevieve "Jean" Salmeri (nee Alfano) died peacefully of natural causes at the age of 100 in her private apartment in the home of her son Anthony at 533 Windmill Lane, Waco, Texas on July 9, 2019.
Genevieve was born on April 23, 1919; the fifth child of Frank and Filomena Alfano. in Cliffside Park, New Jersey where she resided for 87 years. After she was physically debilitated by a respiratory illness, her children moved her to Waco, Texas to care for her. She regained much of her strength and maintained her soundness of mind to the end of her life.
Genevieve was predeceased in life by her husband, Sammy; her brother, Tony Alfano, and her sisters Mary Arribi, Madeline (Babes) Maisano, Josie Rispoli, Christina Ottino, Dolores Waldrop and Nonnie Villani.
She is survived by her son Anthony (Tony) Salmeri and his wife Patricia and by her daughter, Mary Stein and her husband Joel, by seven grandchildren, nine great-grandchildren and three siblings, Louie Alfano, former police chief of Cliffside Park, Edith Moppert and Virginia Scalzo, two brothers-in-law, Joe Villani and Joe Waldrop and twenty-three nieces and nephews and their spouses and children.
She will be deeply missed.
Viewing will be at Mc Corry Brothers Funeral Home on 780 Anderson Avenue, Cliffside Park from 3-8PM on July 15, 2019. Burial will be at Madonna Cemetery on July 16, 2019.