NEARLY A CENTURY OF CHANGE FOR CLIFFSIDE PARK FUNERAL HOME
Michael W. Curley, Jr., Staff Writer, @mwcurleyjr

CLIFFSIDE PARK — Since its first funeral on Dec. 5, 1927, McCorry Brothers has seen many changes.
For a start, when Raymond and Clarence McCorry opened for business, it was a simple storefront, not the large funeral parlor on Anderson Avenue that the brothers opened in 1942. "Predominantly, the funerals were done in the residence," said Paul McCorry, Raymond's grandson. Instead of taking the deceased to a funeral home for embalming and viewing, it was done in the home. That first year, McCorry Brothers performed just shy of 300 funerals, McCorry said. At the time, it was one of the only funeral homes in the area, and also served as the Bergen County morgue.
McCorry doesn't know what inspired the brothers to go into business, but says his other great-uncle, the Rev. Vincent McCorry, a well-known Jesuit priest, might have had something to do with it. Most funeral homes sprang up out of related businesses, such as florists or livery stables, back when the hearse was drawn by a horse.
As more funeral homes opened nearby, he said, the average settled at around 150 funerals a year, adding up to thousands since the business first opened. It recently marked its 90th anniversary. "I do like to go to cemeteries sometimes," he said. "I thought about: How many of these individuals did my family help bury?"
The business started in a storefront on Anderson Avenue in 1927 before moving to its current location in 1942. The funeral home industry is ever-changing. McCorry, who began working in the funeral home after his father, Vincent McCorry, died in 1991, and Vincent Conforti, director of the funeral home, said they attend conventions and read funeral director magazines to keep up to date on emerging trends so that if a family has a special request, they are ready to accommodate them. "All the new trends that we hear about, we really have to study them," he said. "As soon as you start saying you're not familiar with a certain thing, a family could lose confidence."
McCorry said personalizing funerals and moving toward cremation are among recent trends. "They want video memorial, they want photos. You can send in Grandma and Grandpa's picture and get a blanket made," he said.
Sometimes, the funeral home goes the extra mile after hearing a request from a relative. "The families will start telling me stories, things you can work in," Conforti said, recalling a funeral for a big Mets fan. "I'd just jokingly said to his son, while we were making arrangements, because he wanted a bagpiper, I said maybe we could get a bagpiper to play 'Meet the Mets.' He laughed and said, 'That would be awesome.' " The bagpiper ended up beginning the funeral with "Take Me Out to the Ballgame" and finishing with "Meet the Mets," Conforti said, and the family — all Mets fans — said it was the best funeral they had ever attended. "It doesn't take much, and that made the most difficult moment of that family's life better," Conforti said.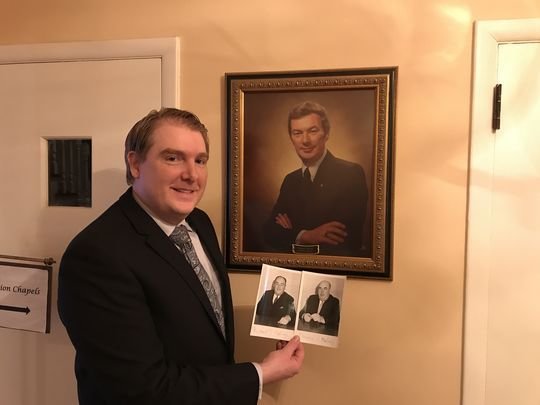 Representing three generations, Paul McCorry holds photos of his grandfather, Raymond McCorry, and his great-uncle Clarence McCorry, in front of a portrait of his father, Vincent P. McCorry, in the family's Cliffside Park funeral home. (Photo: Michael W. Curley, Jr./NorthJersey.com)
In New Jersey, he said, around 50 percent of families choose cremation, and McCorry said some have asked to have the ashes put into fireworks or turned into keepsakes. "To some it might seem strange, but to others it's another form of closure. It's having Mom near, or having Dad with you," McCorry said. This has to do partly with dwindling space in cemeteries and with costs. Cremation is a lot less expensive.
Another growing trend is natural burials, McCorry said. Like a Jewish funeral, he said, natural burials involve no embalming and an untreated coffin. "It's more of a return to nature" — and a return to a practice as old as mankind. Maryrest Cemetery in Mahwah is among a handful of cemeteries in New Jersey with a natural, or "green," burial section.
Occasionally, the funeral home sees a request it can't comply with. One major example is being buried with the remains of pets, McCorry said. "We're not supposed to, and we don't usually heed that request," he said, adding that some cemeteries, such as Catholic ones, don't allow animals to be buried there.
While the funeral home has seen some large funerals — police and firefighters who die in the line of duty tend to have big turnouts — McCorry said the philosophy is that "everybody that comes through here is very important." The business has over the years handled funerals for one of the police officers who arrested the Son of Sam, and four people who died in the Sept. 11, 2001, terror attacks. McCorry said in one case, he got a phone call from a widow about a week after 9/11 to arrange a funeral, before her husband's remains had been found. "I didn't know what to say or do," he said. "She said, 'We want to move ahead, celebrate his life and have closure.' " Some of his remains were found after they had begun the funeral process, McCorry said. "It really brings things into perspective," he said. "When you have someone sitting at their desk, in the prime of life, doing things, then all of a sudden it's gone."
Not every funeral is solemn and sedate, however. McCorry said sometimes the stories told during the eulogy are less than appropriate. At one funeral, he said, the woman giving the eulogy started railing at her relatives, saying she had been the only one taking care of the deceased, and a shouting match broke out among the bereaved. Conforti added that he has the local Police Department number saved on his phone just in case.
In other cases, family members will tell the funeral home not to let a relative in. However, if the funeral is advertised publicly, nobody can be barred unless he or she is creating a disturbance. "People will tell us, 'We don't want Uncle Louie here, because if Uncle Louie comes, we're going to get into a fight, something's going to happen and the police will get called,' " McCorry said. "What usually we find happens is Uncle Louie shows up, and Uncle Louie is not a bad guy — and they'll come marching out of the room, they'll start screaming at Uncle Louie, and Uncle Louie is saying, 'They're asking me to leave. They should leave. I'm not creating a disturbance!' "
"You've got to be careful to not get involved in family dynamics," McCorry said.
Above all else, McCorry and Conforti see the funerary business as a service. "Our job is to not only, in a sanitary manner, take care of somebody's arrangements, but also to look like they did, that final memory," McCorry said. "It's a celebration of life as opposed to being in the quagmire of death."
"More times than not, the last vision a family has of the loved one is the struggle, the difficulties," Conforti said. "When a family comes to you at that moment, with a smile, a tear, a handshake and a hug, there's nothing more in life that you can do."
When the deceased is a child, that sense of compassion and closure is paramount. Most funeral homes, he said, don't charge for infant funerals aside from some necessary cemetery fees. McCorry said he once had a chance meeting with a man who recognized his name. McCorry said the man told him he'd lost five babies and that the funeral home helped with each one. "He said, 'I don't know how to thank you,' " McCorry recalled. Now, he said, the man has "three beautiful children."
McCorry whose father, mother and sister died at relatively young ages, said it has given him perspective. "Life is short," he said. "A lot of times, being that Paul and his family have been part of the community for such a long time, as I have been, growing up here, we tend to have time when we're burying our own loved ones — family, friends, parents," Conforti said. "But we have to get through it. It's part of what we do."